Bibliografie 'Spielfilme im
Fremdsprachenunterricht'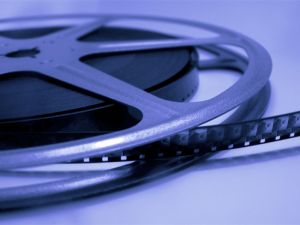 Teil 12: 2022 bis 2023
---

Alghamdi, Rasha Salem S.: Using Movie Clips to Understand Vivid-Phrasal Idioms' Meanings. PhD Thesis, University of South Florida, Tampa 2022.
Alsina Naudi, Anna: "Beyond the Crime Scene. Designing a Criminalistic Module in a Legal Spanish Course", in: L2 Journal 14 (2022), Nr. 3.
Bakken, Anja Synnøve: "Introducing Critical Literacy and Multimodal Perspectives into Film Pedagogies for the EAL Classroom", in: Diamantopoulou, Sophia/Ørevik, Sigrid (Hrsg.): Multimodality in English Language Learning. New York 2022, S. 85-98.
Baldzhi, Ramiz: Lights, camera, action! Movies and active methodologies as a way of promoting spontaneous use of L2 in the classroom. Trabajo Fin de Máster, Universidad de Zaragoza 2022.
Bausells-Espín, Adriana: "Audio Description as a Pedagogical Tool in the Foreign Language Classroom. An Analysis of Student Perceptions of Difficulty, Usefulness and Learning Progress", in: Journal of Audiovisual Translation 5 (2022), Nr. 2, S. 152-175.
Çakir, Ismail: "TV serials and movies to boost intercultural communicative competence in Turkish EFL context", in: International Journal of Applied Linguistics 32 (2022), S. 397-410.
Cerezo Merchán, Beatriz/Reverter Oliver, Beatriz: "Proyecto de investigación PluriTAV. Estudio cuasiexperimental de la aplicación de una secuencia didáctica centrada en el desarrollo de la competencia plurilingüe y pluricultural", in: Revista de Lenguas para Fines Específicos 28 (2022), Nr. 2, S. 101-132.
Chaya, Piyaporn: "Movie Exploratory Study for Appropriate Cultural Contents for Enhancing Thai EFL Students' English-Speaking Skills and Intercultural Communicative Competence", in: Asian Social Science and Humanities Research Journal 4 (2022), Nr. 1, S. 1-14.
Constantinou, Elis Kakoulli: "Digital Mediation in English for Specific Purposes Through the Use of Today's Favourite: Netflix", in: Meiselwitz, Gabriele et al. (Hrsg.): HCI International 2022 - Late Breaking Papers. Interaction in New Media, Learning and Games. Proceedings. Cham 2022, S. 320-330.
Di Rosa, Rossella: "Enhancing Foreign Language Learning and Interaction Inside and Outside the Classroom through Video Streaming Services", in: TILCA - Teaching Italian Language and Culture Annual 2022, S. 4-10.
Hernandorena Lazkano, Julene: Enhancing English Pronunciation and Determining Foreign Language Anxiety Levels through a Dubbing Project. Trabajo Fin de Máster, Universidad Pública de Navarra, Pamplona 2022.
Killick, Natalie: Second/Foreign Language Learners and Narrative Film Comprehension. An Intercultural Reception Study. PhD Thesis, University of Western Ontario, London 2022.
Kim, Hye Jeong: "A Suggestion on Using Animated Movie as Learning Materials for University Liberal Arts English Classes", in: International Journal of Advanced Culture Technology 10 (2022), Nr. 2, S. 98-105.
Kovácová, Michaela/Jurková, Veronika: "Deutschlernen durch bewegte Bilder? Zum Einsatz audiovisueller Medien im Sekundarbereich II in der Slowakei aus der Perspektive der Lehrenden", in: Studia Germanistica 30 (2022), S. 113-126.
Kuze, Kyoko: "Using a Film Adaptation of a Literary Work in Online Teaching. A Practice in Online Business English Courses at a University", in: Conaway, Patrick/Iske, Duncan (Hrsg.): PanSIG Journal 2021. Selected articles from the 2021 PanSIG Conference. Tokyo 2022, S. 8-13.
Lee, Soyoung/Suh, Young-Mee: "Utilizing Disney Films in the EFL Classroom. Enhancing Students' Critical Literacy Skills with Animation", in: Modern English Education 23 (2022), H. 1, S. 1-14.
Martín-Gascón, Beatriz: "El lenguaje del amor, de la seducción y del engaño en 'Mujeres al borde de un ataque de nervios'. Una propuesta didáctica en clase de ELE", in: DobleLe - Revista de Lengua y Literatura 8 (2022), S. 112-136.
Martín-Gascón, Beatriz: "O sentimento de solidão e abandono em 'A flor do meu segredo', de Almodóvar. Uma unidade didática para a classe de ELE", in: Fórum Linguistico 19 (2022), S. 7870-7894.
Paran, Amos: "Triangulating novel, film, and critique. Reading Forster's 'Maurice'", in: Lütge, Christiane (Hrsg.): Foreign Language Learning in the Digital Age. Theory and Pedagogy for Developing Literacies. London 2022, S. 91-104.
Rho, Yoon-Ah: "A Study on the Use of Preferable Textual Enhancement Techniques from L2 Learners in the Movie 'Before Sunset'", in: Journal of English Teaching through Movies and Media 23 (2022), Nr. 2, S. 41-53.
Sánchez Auñón, Estefanía/Boussif, Imad: "Theoretical Overview on the Inclusion of Cinema in the Teaching of French as a Foreign Language", in: Innovation in Language Learning. 15th International Conference. Proceedings. Bologna 2022.
Sanz-Moreno, Raquel: "L'écriture en français à travers l'appréhension d'un nouveau genre textuel: l'audiodescription", in Cédille - Revista de estudios franceses 2022, Nr. 22, S. 455-473.
Smith, Eliza Jane: "Teaching Francophone and French Cultures through Project-Based Learning", in: Chevant-Aksoy, Aurélie/Corbin, Kathryne Adair (Hrsg.): Culture and Content in French. Frameworks for Innovative Curricula. Amherst 2022, S. 145-175.
Schmitz, Dieter Hermann: Roman, Rock, Comic und Film. Innovative Ansätze in der auslandsgermanistischen Literaturdidaktik. Joensuu 2022.
Torralba, Gloria/Baños, Rocío/Marzà, Anna: "Audio description and plurilingual competence. New allies in language learning?", in: in: Revista de Lenguas para Fines Específicos 28 (2022), Nr. 2, S. 165-180.
Viebrock, Britta: "From slum kid to queen of chess. Inszenierungen einer Lebensgeschichte in verschiedenen Textsorten untersuchen", in: Der fremdsprachliche Unterricht - Englisch 2022, H. 179, S. 40-46.
Vu, Danh Cong/Lian, Andrew-Peter/Siriyothin, Peerasak: "Integrating Natural Language Processing and Multimedia Databases in CALL Software. Development and Evaluation of an ICALL Application for EFL Listening Comprehension", in: CALL-EJ 23 (2022), Nr. 3, S. 41-69.
Wood-Borque, Paula: "Compiling a Corpus of Audiovisual Materials for EFL Learning. Selection, Analysis, and Exploitation", in: Profile - Issues in Teachers' Professional Development 24 (2022), Nr. 1, S. 125-141.